Playper Expands its Curious Kingdom World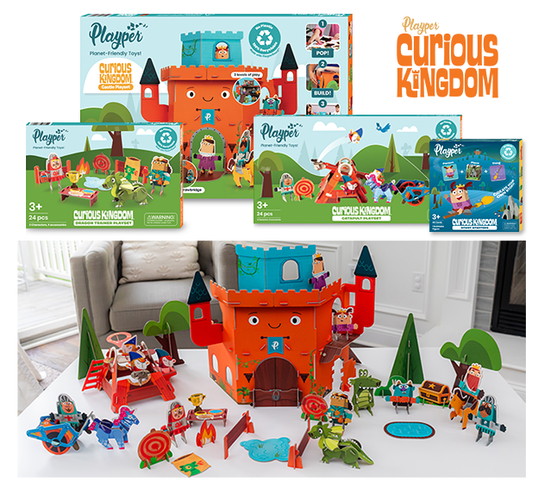 I've always loved the Fall and having young children (four under the age 9), makes me love it even more. The heck with New Year's Eve – this is the time of new beginnings. Pre-school, Kindergarten, grade school all make me feel like this is the beginning of the year for kids and parents. And as a CEO of a pretty cool toy company? It is the beginning of thinking about the holidays.
And there is lots of "new" around here as Playper has released three new exciting products. As the award-winning toy maker of creative, build-it-yourself toys, we're releasing two new playsets plus a Story Starters card set within the story-driven, imagination inspiring, fantastical world of Curious Kingdom. It's exciting to grow the brand and the stories with these creative new products while expanding what we started with the Curious Kingdom Castle.
Listening to Toy Sellers
This past spring our team went to a toy convention for independent toy sellers called ASTRA, and it was a great experience. The response to our Curious Kingdom and its characters was fantastic, and as we walked around the large convention floor filled with established toy makers, we couldn't help but be proud that there really isn't like anything out there that is like what we're doing. It was especially rewarding to "work the booth" and watch people interact with our durable, creative playset. Two comments we heard were that people were interested in us expanding the world and seeing us create products at a lower price point.
We took it to heart. That's why it's exciting to introduce these new products, all of which list for under $20. These are perfect for those who want to add on to the Curious Kingdom experience or try a smaller version of one of our imaginative play toys.
Expanding the Curious Kingdom World
Curious Kingdom: Dragon Trainer Playset. This buildable playset features the ever-enthusiastic and confident Connie, a dragon trainer who is working to train Binky the baby dragon to fly. But Binky is equally energetic and easily distracted. Then there is Mateo, the knight-in-training assigned to put out all the fires Blinky accidently starts (he can't control his fire-breathing yet). This 24-piece, 3-character, 9-accessory playset includes bonus fun like a reversible grooming/feeding station with a swappable trophy and faucet. Retail Price: $14.95.
Curious Kingdom: Catapult Playset. Build a working catapult and play with its crew! Ever hear of a grouchy unicorn? Meet Cornelius, who can also levitate objects with his magic and helps our two gnomes, Fish Stick and Snack Cake, as they travel the kingdom by catapult. Also included in this buildable playset is the Knight of Always, who says yes to everything, even when it gets him in trouble. This 22-piece, 4-character, and 3-accessory set includes a target for flinging practice. Retail Price: $19.95.

Curious Kingdom: Story Starters. The inhabitants of Curious Kingdom have an unlimited number of imaginative stories – and now you can make up your own! This is a story-telling card set that comes with a free buildable character, Laila. This creative activity takes the characters, props and locations of the Curious Kingdom and invites kids to make up their own stories using the 40 cards as prompts. Parents and teachers can visit Playper.com for more ideas on how to use the cards for learning and fun at home or in the classroom. As for Laila, she is a musical-loving ogre who spends her free time caring for the littlest animals in the forest where she lives. Retail Price: $14.95.
Like all Playper products, these contain no plastic and are created with soy-based ink. Made from durable, high-quality, and spill-resistant PlayperBoard®, they are kid-tested and built to last.
For those gift-giving adults who are looking for something completely different that imaginatively presents goofy, quirky characters and encourages kids to make up their own stories, these are going to be the toys of the season – especially when parents, grandparents, and any adult can help build and play with them.
So, ask your independent toy seller about them or get them on our site or Amazon today. Then review them for us and let us know what you think. Meanwhile, look for another full playset coming out in 2024 and know we've got lots of other ideas percolating!